Bad Tow Truck Discount
Bad Tow Truck is part of our
Reality Kings discount
which includes full access to 48 sites. Subscribe now to receive the best deal and save up to 67% off.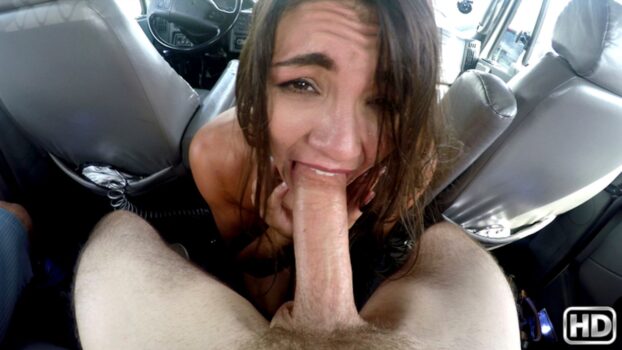 One Badass Tow Truck Driver
A thrilling new reality porn site from the guys at Reality Kings
PROS
11 Bad Tow Truck videos available
Stream all videos in full 1080p HD
Includes full access to Reality Kings
Access 48 sites in total with 1 account
Over 10,135 scenes available
Save 67% with our instant deal
CONS
Site is no longer active, but network is
Add your review


Bad Tow Truck, from the Reality Kings team, is where cute girls put on a show to avoid getting their car towed!  In this limited series, they have struck just the right balance between humor and eroticism which has been a key element to their success over the years. A little bit of humor, mixed with a dose of reality, and of course, hot women, and you have got yourself a hit. With Bad Tow Truck, they are continuing what they started with Bang Bus (maybe should have named it Bang Truck) and taking it in a slightly different, yet equally interesting direction. At the beginning of each scene, you will find the tow truck driver about to take off with some poor girl's vehicle. And of course, she is flat broke and has no way of making her car payment. Lucky for her, the under-sexed tow truck driver is more than willing to help her out in exchange for a sexual favor or two. If this scenario interests you, you will want to take advantage of our Bad Tow Truck deal. You will gain access to each video and a whole lot more for cheap.

One of the best scenes available at Bad Tow Truck stars the beautiful and petite Veronica Rodriguez. Just imagine putting some random car on your lift, when out comes Veronica. She will do anything you want as long as you do not tow away her car. You invite her inside of the truck's cab and she gets to work – sucking your cock. When she sees the size of it, she cannot help herself. She climbs on top so you can get balls deep in that tight Latin pussy. Did I mention that she is also a squirter? You can find this scene by searching for Left Behind or by exploring their model index, just look for Veronica Rodriguez.

As a member you can instantly stream all 11 exclusive videos within the Bad Tow Truck member's area directly to your computer and to a mobile device. As an added incentive to take advantage of our Bad Tow Truck deal, your subscription comes with free access to all of the Reality Kings Network. There are 48 sites network-wide with over 10,135 scenes and 5,318 porn stars between them. Now that is a lot of porn for a super cheap price with our deal.

With a standard subscription to Bad Tow Truck you would normally be looking at a monthly cost of $29.99. If you use the Bad Tow Truck discount we have arranged, and you will save 50% per month for the life of your membership. Your new 30-day price works out to just $14.99 which is $15.00 off. To drop that price even lower, and save up to 67% per month, just select the 12-month membership plan. If you go with this $119.99 option, the average monthly cost of your membership is reduced to $10.00.


$10.00 – Bad Tow Truck Discount (67% Off)