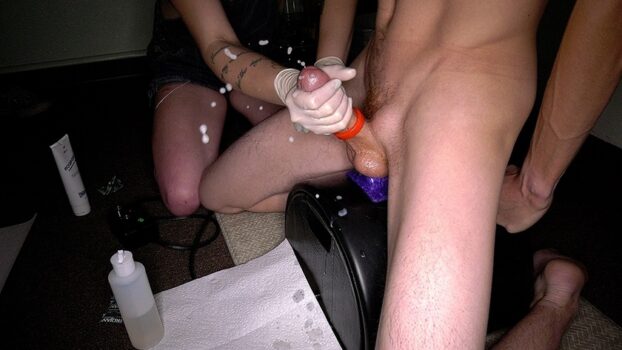 Strong Orgasms

Let Carmen and her beautiful friends give you one powerful orgasm after the next!

Add your review


If your balls are full and in need of draining, head on over to Cum Clinic. Registered nurse Carmen and her sexy assistants will milk your cock till it erupts like a volcano. They'll use their hands, plenty of oil, and an assortment of cum extraction devices to get you off. If you need some extra stimulation, she'll have you sit on the Sybian and vibrate your prostate while she yanks your crank, or she will just stick a finger in your ass instead. If she takes a liking to you, she might even let you finger her tight pussy. At CumClinic you're guaranteed the most intense orgasms of your life. You'll leave the session feeling completely satisfied, and stress-free. If you become a member today, you'll unlock full access to 208+ exclusive cock massage videos and counting. You can stream these videos at up to 960x540p inside the member's area or download copies in full 1080p HD quality. So, what are you waiting for? Book a session today and let Carmen jerk the stress away!

Cum Clinic is regularly priced at $29.95 per month however if you look at their multi-month deals you can actually save yourself quite a few bucks off the regular price. First is a quarterly membership for $79.95 per month which cuts your average monthly price to $26.65. Option number two is a 6-month membership for $149.95 which saves you 17% and reduces your average monthly price to $24.99. Last but by no means least is the 1-year deal for $195.95. That's just $16.33 per month on average, 45% off the regular price. Both the 6 and 12-month plans are non-recurring, meaning they don't renew automatically like the monthly and quarterly subscription plans mentioned above. On the join page, make sure to follow the account creation guidelines with regards to user name and password length.
Active Cum Clinic Discounts:
A membership at CumClinic.com grants you instant video streaming, 1080p high definition video downloads, and access to consistent weekly updates.


$16.33 – Cum Clinic Discount (45% Off)