Dirty Doctor Discount
Dirty Doctor is part of our
Teen Mega World discount
which includes full access to 35 sites. Subscribe now to receive the best deal and save up to 67% off.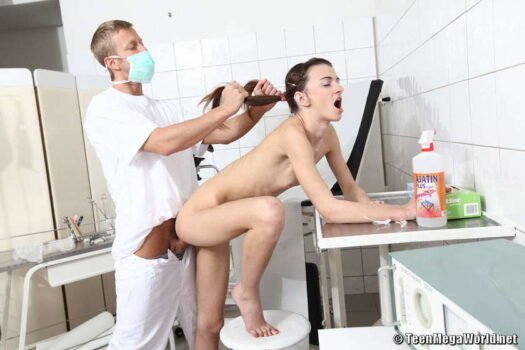 Kinky Exams
Horny doctors take advantage of their cute patients!
PROS
38 Dirty Doctor videos available
Stream and download videos with ease
Newer videos available in 4K UHD
Comes with access to TeenMegaWorld
Access 5,864 videos from 35 sites
Subscribe for as low as $10.00 per month
Add your review
The Dirty Doctor can't keep his hands off his patients, and can you really blame the guy? Every day multiple beauties walk into his examination room and happily spread their legs for him. Sure, he tries to maintain his composure and act professional, but sometimes he just can't control himself. And it doesn't help matters that most of his patients are completely ignorant as to what is or is not appropriate conduct for a gynecologist. Some are so oblivious that they allow the Dirty Doctor to poke and prod their vagina with his cock as if it were some sort of official medical instrument.
If you subscribe to this exclusive reality porn site today via our Dirty Doctor deal, you will receive immediate access to 38 videos which you can watch in HD quality. Each video takes you up close and personal with a different Euro babe who thinks it's perfectly normal to let their gynecologist perform a tightness test on their pussy with his cock and then let him follow that up with an oral exam. Yes, that's right, instead of a tongue compressor he simply tells his patients to open wide, say "ahh", and then he inserts his penis into their mouth. Perfectly normal and above-board behavior. If you sign up today, in addition to saving up to 67% off regular price, you will also receive bonus access to a huge network of sites with 1000's of videos that complement Dirty Doctor perfectly. In other words, if you like this site, you will love all the others as well. This bonus network is called Teen Mega World and is included for free! Teen Mega World currently features 35 sites with a mind-blowing 5,864. All you need is 1 account to access everything!
Dirty-Doctor has a standard membership fee of $29.95 per month however if you purchase a subscription today with one of our discounts, you can reduce your average monthly fee to as little as $10.00. To receive this ridiculously low monthly price you must purchase a 1-year membership plan. The cost of this yearlong plan is just $119.95, which is 67% off the standard 1-year cost of $359.40. If you'd prefer a standard month-to-month subscription, simply select the $14.95 per month plan on the sign-up page. You'll save $15.00 per month with this plan on a continual basis.


$10.00 – Dirty Doctor Discount (67% Off)