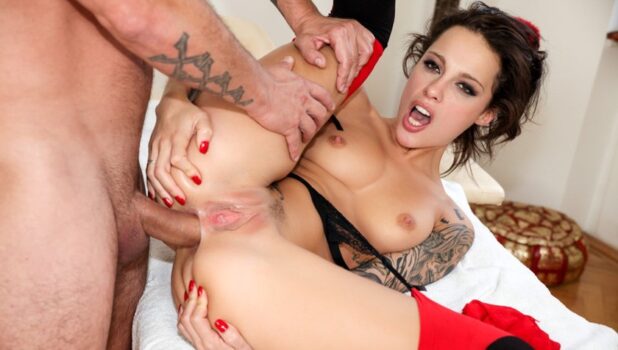 Make Her Gape

Exclusive hardcore and lesbian porn scenes where beautiful adult stars gape from intense anal sex!

Add your review


If you get off seeing a gorgeous woman gape from a deep anal pounding, Gaping Angels from director Christoph Clark is the porn site of your dreams. Inside you'll find all sorts of nasty porn stars who love big dicks as well as big toys being shoved deep in their asses! The result of this backdoor action is non-stop gaping that you have to see to believe. With your account you'll gain full access to 457 individual video updates which are available to stream as well as download, even on your mobile phone or tablet. In addition to the 457 scenes at Gaping Angels, your new account comes with free network site access. A few of the sites included with your account are PantyPops.com, MakeAdriano.com, NachoVidalHardcore.com, and LeWood.com. This network boasts dozens of sites in total, thousands of hardcore scenes, as well as consistent daily updates. And if you take advantage of our special Gaping Angels discount offer, you'll pay as little as $7.95 a month for everything. This is an incredible deal considering you'll gain access to a plethora of 1080p high definition porn covering just about every genre!

With our Gaping Angels discount, you can save big off your first month of access or save on a continual basis with a multi-month plan. While the cost of a monthly membership is $29.95, you'll pay just $14.95 for your first month with this offer. That is a discount of $15.00 off the regular price. If you instead select a multi-month plan, you can choose between a 3-month plan for $68.95 or a 12-month plan for $95.40. Obviously, the 12-month plan offers the best rate of $7.95 a month on average, in comparison to $22.98 with the 3-month option. If you do opt for the 12-month plan today, you'll save $22.00 a month which adds up to $264.00, a 74% off discount.
Active Gaping Angels Discounts:
With a membership at Gaping Angels you'll receive full access to 457 exclusive anal porn videos as well as bonus access to thousands of additional porn videos.


$7.95 – Gaping Angels Discount (74% Off)