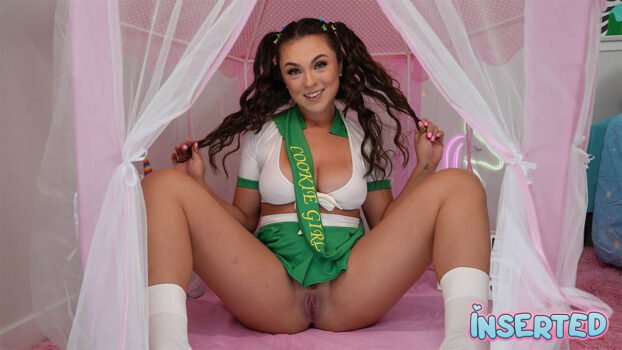 Hot POV action
Cute and sexy 18 and 19-year-old girls ready to bang!
PROS
41 POV videos available now
Stream and download at up to 4K UHD
Videos come with matching photos
40 sexy girls featured already
Pay only $14.95 for your first month
Subscribe for as little as $9.95 per month
Add your review
At Inserted.com you can watch as incredibly adorable babes, including Nicole Sage and Alyx Star, have sex while chatting on the phone. They however are not chatting with a friend; they are on the phone with their daddy of all people! Just imagine sliding your cock in and out of one of these babes throats while she tries to hold a conversation on the phone. To access this unique adult site for cheap, make sure you subscribe via our Inserted.com discount. It will save you 50 to 67% off instantly.
One of my favorite scenes from Inserted.com is "Sophia has a Jealous Daddy" which stars the beautiful Sophia Leone. After applying some lotion all over her legs, and masturbating till she is dripping wet, Sophia pulls out her phone and makes a call home. While on the phone with her "Daddy," her male costar whips out his cock and shoves it right in her mouth. She however does not let her phone call stop him, and proceeds to get her tight pussy fucked. She even video chats him at the end of the video as she brushes her teeth. She however is not using any toothpaste, just his jizz! This 44-minute scene is available right now!
Within the Inserted.com site you will discover a current total of 41 videos starring 40 completely adorable babes. As a member, even via our better pricing, you will be able to both stream and download videos. Best of all, videos are available in resolutions up to 4K UHD. Each video also comes with a matching photo set as well as stills from the video. While you can browse both types of galleries with ease, they are also accessible via zip file. Add in regular updates and our massive discount and you seriously cannot go wrong. Join now for as little as $9.95 per month.
If you are looking to save some cash on your membership at Inserted.com, our discount is a wise choice. Subscribe via this deal and the cost of your first month of membership is cut in half, from $29.95 to just $14.95. This 30-day plan for only $14.95 is a great way to decide whether a membership at Inserted is the right choice. You can however save on a continual basis. To do so, simply select either the 3 or 12-month plan. The cost of a 3-month membership is currently $59.85 which is equivalent to paying $19.95 per month. The 12-month plan is even cheaper. Subscribe on a yearly basis for $119.40 and your monthly fee falls to just $9.95. That is a total savings of $240.00.