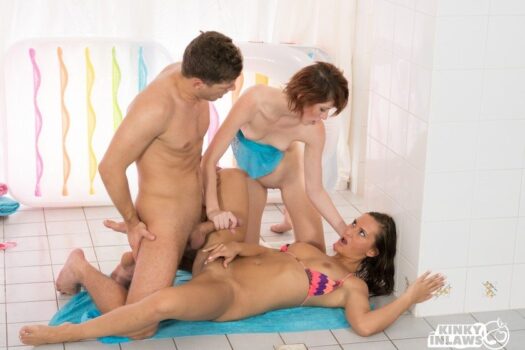 Naughty In-laws

Watch what happens when in-laws can't resist having sex with each other!

Add your review


Kinky Inlaws is all about naughty stepfamily sex. It might be taboo, but sometimes it's impossible to resist that oh so delicious forbidden fruit. Which is exactly the issue Michael's faced with at this very moment. He's at the pool with his sexy stepsister Anny Swix and her hot brunette friend Naomi Bennet. They're being very flirtatious with him and he's doing his best to maintain composure. However, when they begin to fool around right in front of him, all bets are off. By now he's hard as a rock and ready for action. He walks over to the edge of the pool and places his hand on his stepsister's breast. Naomi backs up, so she can enjoy the kinky stepbrother on stepsister make out session that's about to take place. If you subscribe to Kinky Inlaws today, you'll unlock access to this hot threesome video along with 29 additional scenes with equally erotic storylines. The Kinky Inlaws series is updated several times per month with a fresh new fantasy that's guaranteed to satisfy your thirst for taboo erotica. Your membership also includes access to 41 additional series from PornDoe Premium.

Kinky Inlaws is 1 of 42 unique series you'll receive access to with your Porndoe Premium membership plan. While a monthly membership regularly costs $29.95, you'll pay just $24.95 with our discount. For even larger savings, you should consider purchasing a quarterly or annual subscription. The quarterly subscription, which is billed at a rate of $69.95 per 90 days, averages out to just $23.32 a month. If you select the annual subscription, you'll pay $149.95 per 365 days. That's an average of just $12.50 per month and 58% off the regular monthly rate.
Active Kinky Inlaws Discounts:
Access all 30 exclusive scenes, matching photos, and regular updates at Kinky Inlaws. As a bonus, your membership comes with access to the PornDoe Premium network.

$12.50 – Kinky Inlaws Discount (58% Off)