Let's Post It Discount
Let's Post It is part of our
Mofos discount
which includes full access to 19 sites. Subscribe now to receive the best deal and save up to 67% off.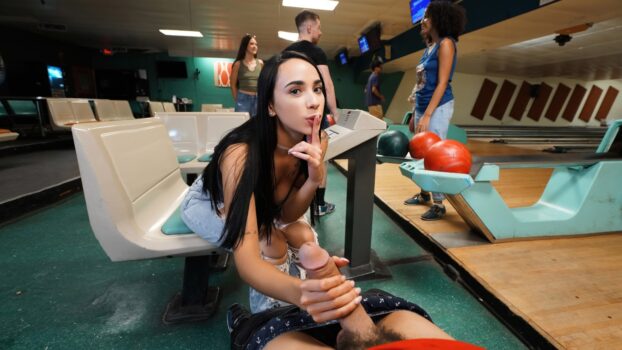 Risky Sex In Public
Your favorite adult starlets explore their wildest fantasies in unique public sex scenes.
PROS
14 Let's Post It videos available now
Stream videos in 1080p high definition
Watch videos on your favorite devices
Comes with access to all Mofos series
Access 3,941 videos and regular updates
Over 2,295 of the most popular stars
Pay just $17.99 for monthly access
Subscribe for as little as $10.00 per month
Add your review
Let's Post It, a brand-new series from Mofos, is where you can explore your favorite public sex fantasies with the help of one beautiful babe after the next! Best of all, thanks to our Let's Post It deal, you can also save big – up to 67% off! Inside of this unique series you will find couples having sex in the club, at the pool, in the car, and even at the bowling alley. If you love having sex in public, or just like to watch, a membership is a no-brainer – especially with our deal. Join now for immediate access to such popular videos as "The Bowling Alley Goes Crazy" and "The Brunette Banged in a Bar."
The most popular video, and my personal favorite, at Let's Post It is "Public Night School Fun" featuring Emma Bugg. This petite beauty may have small breasts, but she is totally adorable and has an amazingly round ass you do not want to miss. The video starts off with Emma pulling down her jeans so her male costar can check out her delicious ass. Surprisingly, none of the other students or teacher notice what is going on. Before long, she is under the table and sucking his dick. The action continues from there, and features plenty of penetration right in the classroom. Best of all, when it is time for her costar to blow his load, she opens her mouth wide for him! What she does not catch in her mouth spills out all over her t-shirt. This is just 1 example of the type of exclusive and unique hardcore videos you will find within Let's Post It. Subscribe today and you will gain access to every video release and more for cheap when you use our deal at Let's Post It.
Even though Let's Post It is a relatively new adult site, it already offers members access to a total of 14 videos. When you subscribe today via our Let's Post It discount you will be able to stream each video release in 1080p high definition in full. You will also receive free access to the rest of the Mofos network of sites. This includes I Know That Girl, Don't Break Me, Let's Try Anal, and plenty of additional sites. All you need is 1 account to access everything. At last count, there are 19 individual series/sites available within Mofos. When combined, this network boasts 3,941 videos and 2,295 babes. Add in multiple new updates every week and our massive discount and you seriously cannot go wrong subscribing today.
The standard price of a monthly membership is $29.99, but when you subscribe via our Let's Post It discount you will save 40 to 67% off instantly. Select the popular monthly plan and your dues are reduced to just $17.99. That is a savings of $12.00 off the regular price. Best of all, this price break remains intact for as long as you are a member. The easiest way to pay even less is by purchasing a yearly membership plan for $119.99. At this price, a month of access averages out to $10.00 which is 67% off. To take advantage of this deal, simply select either the monthly or yearly plan and you will be redirected to Mofos.