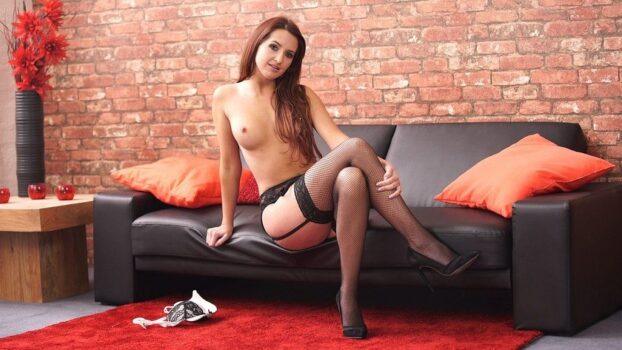 Naughty Stories

Watch, and listen, as beautiful models read naughty stories while dressed in revealing lingerie!

Add your review


Reading erotica can be a great way to get off, but it is even better when read by a beautiful woman! This is the exact scenario at Lingerie Tales. Inside of this exclusive adult site you'll be able to watch and follow along as sensual European babes slowly disrobe while reading some very naughty literature! Best of all, the stories cover all sorts of different niches including taboo, college sex, and domination. At the time of writing, there are a total of 41 different babes who have starred in 171 videos and 156 photo sets. While not every video has a matching photo gallery, most do. And thanks to several new updates every week, the member's area is always expanding in size. As a member you'll be able to easily watch each new update in a variety of high quality resolutions, including both 1080p and 4K UHD. All videos are also optimized for your mobile phone and tablet which means you can listen on the go!

A monthly membership plan at Lingerie Tales typically costs $24.95 for your first month, and then $19.95 thereafter. If you purchase this monthly plan, you'll save $5.00 each subsequent month you remain a member for a discount of 20%. You can however increase you discount by selecting a multi-month plan. Your first option is the 3-month plan which recurs automatically. This plan costs $59.95 for your first quarter, and then $49.95 per quarter thereafter. At this price, you'll pay an average of $19.99 per month, and then $16.65 per month if you remain a member for longer than 90 days. That is a discount of 20% for your first quarter, and a discount of 33% after. For an even better deal, select the non-recurring 180-day plan for $99.95. On average, this plan will cost you just $16.66 per month and save you 33%. The best deal overall however is the lifetime plan for just $500.00. If you were to access the site for the next 10 years, you would have paid an average of just $4.17 per month, an 84% discount.
Active Lingerie Tales Discounts:
Gain full access to 171 exclusive videos that available in resolutions up to 4K UHD, matching high quality photo sets, and regular updates.


$4.17 – Lingerie Tales Discount (84% Off)