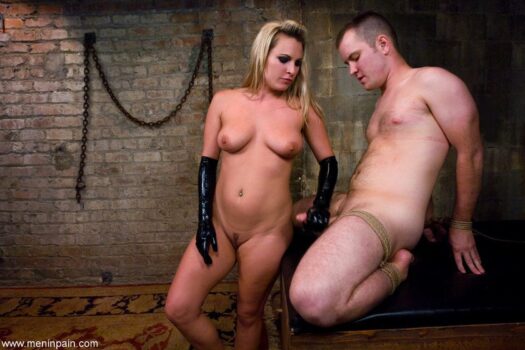 Men Dominated

Watch as submissive males submit themselves to dominant women!

Add your review


If you desire to submit to the authority of a gorgeous dominatrix, Men In Pain is the site for you. Become a member today and you'll have your pick of kinky fetish babes who love to inflict pain on their men. They'll punish you in ways you could never imagine, and verbally dominate you throughout. If you subscribe now, you'll gain instant access to 382 HD videos in which submissive men relinquish all control to their mistress. For the dominatrix, it's a power trip. For the slave, it's a sort of humiliation therapy. They both receive something from the exchange. Be warned, this is an extreme femdom site and is not intended for those who are squeamish or easily offended. Scenes feature all sorts of twisted bondage action such as cock torture, edging, pegging, and more. The kinky dominatrices of Men In Pain are always thinking of new and creative ways to make you suffer. If you join now, you'll save up to 50% off regular price thanks to our discounts, plus you'll receive bonus access to the entire Kink network. There are 66 sites network-wide which cover just about every aspect of BDSM.

The standard cost of a Men In Pain membership is $39.99 per month however with our deal you can join for just $19.99. This $20.00 discount is valid for your first month after which your membership reverts to full price. You can however avoid this price increase by opting for a multi-month membership plan. There are a few different plans to choose from. First is a quarterly subscription which is billed at $89.97 every 90-days. Next is a 6-month membership which is billed at a rate of $137.95. Lastly is the 12-month plan which also happens to be the best deal. This 12-month membership costs only $238.88. That's just $19.99 per month on average which is an excellent 50% price reduction.
Active Men In Pain Discounts:
Access 382 exclusive video updates from Men In Pain and receive full access to the Kink Unlimited network with a single membership.


$19.99 – Men In Pain Discount (50% Off)