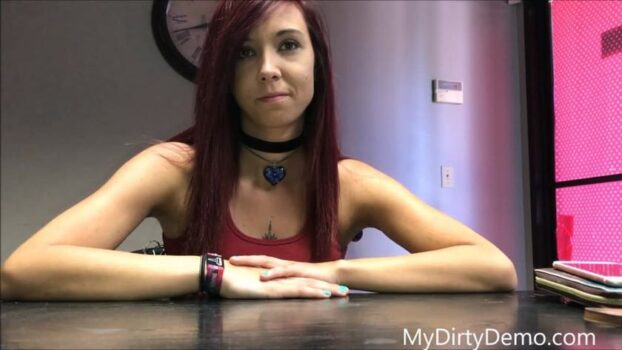 Hot Amateurs

Watch as hot amateurs in their debut porn scenes try to impress a dirty casting agent!

Add your review


My Dirty Demo is a fresh casting porn site with a unique twist. Unlike the competition, the mastermind behind this adult site tricks unsuspecting girls into believing they need to have a demo tape in hand prior to working for a major porn studio. This allows him to have his way with amateur chicks who are fresh off the street, before anyone else even has a chance to film them. One of the best My Dirty Demo videos available so far stars Maddox, a bubbly brunette babe with an insatiable hunger for cock. In her debut scene, she relinquishes her entire body to our trusty talent agent, allowing him to fuck her mouth, pussy, and ass. Surprisingly, she even lets him to bust his nut deep inside of her pink pussy, something that she has never allowed any other guy to do in her life! This amateur creampie porn video is worth the cost of a membership alone. At the time of writing there are 42 videos starring 32 real first-timers available within the member's area. With your account, you can easily stream each video in full 1080p high definition, or download them to your personal amateur porn archive. The member's area is also mobile friendly which means you can show your friends your favorite videos, or rub one out on the go! Since there are no download restrictions in place, you can download and stream continuously without issue. In addition to their current archive, you'll gain access to several bonus videos as well as consistent weekly updates. Best of all, all membership plans are available at a great price considering what your membership includes access to.

A monthly membership plan at My Dirty Demo is fairly priced at $19.99 per month, but if you purchase a 2 or 6-month plan you can pay even less! For example, if you opt for the 2-month plan you'll pay $34.99 every 60 days. That is just $17.49 per month on average, a savings of $2.50 off the regular price every month. While this isn't a huge price break, the 6-month plan offers a substantial savings. The cost of a 6-month membership is only $69.95 which is the same as paying $11.65 per month. This extended non-recurring membership plan will save you 42% off the regular price instantly.
Active My Dirty Demo Discounts:
With a membership at MyDirtyDemo.com you gain full access to every video as well as consistent weekly updates starring real first-timers.


$11.65 – My Dirty Demo Discount (42% Off)