My Dirty Maid Discount
My Dirty Maid is part of our
BangBros discount
which includes full access to 53 sites. Subscribe now to receive the best deal and save up to 67% off.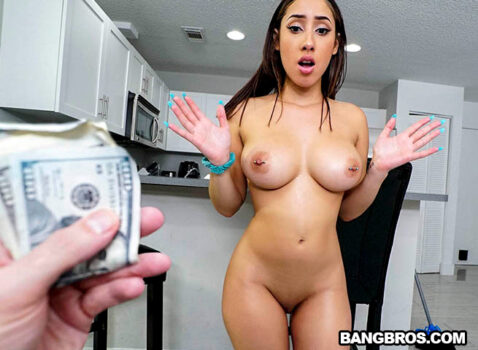 Naughty Maids
The cleaning ladies at My Dirty Maid love to earn big tips!
PROS
179 My Dirty Maid videos available
Stream in high definition
New videos available in 4K UHD
Membership comes with Access to BangBros
Network features 53 sites and 10,343
Save up to 67% and pay just $10.00/month
Add your review
|
Read reviews and comments
In order to maximize their tips, the beautiful ladies featured at My Dirty Maid offer up special extras that are not ordinarily included with their regular cleaning services. Instead of just dusting and cleaning your house, these busty Latin babes will strip down as they work and show you every inch of their heavenly bodies for a price. If you are lucky enough and have enough cash available to throw them a big tip, they may even just fuck your brains out! If you have ever found yourself dreaming about banging one of the girls that cleans your house, or even your hotel room, you will love this porn site from the creators of BangBros. Join today and you can experience what it is like to bang Jocelyn Stone, Kira Perez, Ella Cruz, and Alina Belle.
Kira Perez just happens to star in one of the most popular scenes available at My Dirty Maid. In this scene, Kira shows up to clean your house in a revealing top. It turns out that cleaning naked is something Kira is not too comfortable with, but a couple hundred bucks changes her mind. She tears off her top and exposes her luscious breasts, each of which are pierced. A little bit more cash and her panties are off! After watching her clean your house naked, wearing only a pair of sneakers, you whip your cock out and start to masturbate. When she catches you playing with your big cock, she cannot resist her sexual urges and the cash in your hands. Thankfully, this is just 1 of the many hardcore Latin porn videos available.
Currently there are 179 high definition scenes available for you to access with a membership at My Dirty Maid. Each scene is available to stream in 1080p high definition as well as view from a mobile device. And new scenes are now available in 4K UHD for the utmost quality! You will also find matching high-resolution images with each video update which can be viewed individually. In addition, your membership at My Dirty Maid is packaged with full access to the BangBros network. This popular porn network boasts thousands of hardcore scenes, daily updates, and the hottest porn stars in the business by far. And thanks to our massive My Dirty Maid discount, you will be able to access every site within the network for cheap.
The standard cost of a monthly membership at My Dirty Maid is $29.99 however our discount allows you to save up to 67% off. If you purchase the monthly plan, your membership fee is reduced to just $14.99, a savings of $15.00. With this option you save 50% on a continual basis, for as long as you decide to keep your membership active. The second option is a yearlong membership plan for just $119.99 upfront. With this plan you save 67% off the normal yearly fee of $359.88 and lower your average monthly payment to just $10.00. Both cheaper plans include full access to both My Dirty Maid and the rest of the BangBros network of sites.


$10.00- My Dirty Maid Discount (67% Off)