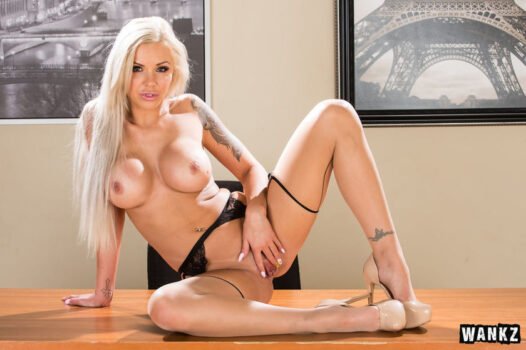 Female Bosses

If your boss is a smoking hot MILF, you better do anything she asks which includes fucking her brains out!

Add your review


At My MILF Boss you can experience sex in the work place with some of the hottest babes around. Having a horny MILF for a boss however can be a double edged sword. Sure, it's great on one level, because you get to fuck your boss while your coworkers slave away in their cubicle. However, if you fail to please her, you can kiss your job goodbye! And don't even think about turning her down. That's another sure fire way to get yourself terminated. If you're lucky enough to score an attractive boss such as Sarah Vandella, the experience can actually be quite enjoyable. This cougar is aggressive, and if she decides she wants you, there isn't a whole lot you can do about it. In the case of Jake, one of her new hires, she takes a liking to him immediately and practically stalks him around the office. When Jake bends over to remove something from the filing cabinet, she gives his ass a serious squeeze. He is shocked but at the same time intrigued. Next she forces him up against the cabinet and grabs his crotch. At this point, he figures he might as well just go along for the ride. When a busty blonde MILF offers to suck your cock, you'd be a fool to say no. If you subscribe to My MILF Boss today, you can watch this 27-minute-long scene in HD or 4K UHD quality. And thanks to our discount, you will save a nice wad of cash plus gain full access to the Wankz network for free. At the time of writing there are 59 sites in the network with a present total of 2,531 movies, 71 of which are from My MILF Boss.

My MILF Boss has a standard membership fee of $29.95 per month but with our 50% discount your monthly fee is cut in half to just $14.95. That is a savings of $15.00 every 30 days. There is also a 3-month plan available for just $39.95. At this price you pay an average of $13.32 per month, a savings of 56%. Finally, if you opt for a 1-year membership plan your average monthly price works out to just $6.66. The cost of this yearlong plan is $79.95, which is paid in 1 easy installment. That's a 78% price drop and an average monthly savings of nearly $24.00.
Active My Milf Boss Discounts:
A membership includes full access to 71 exclusive scenes, matching photo galleries, mobile access, video downloads at up 4K UHD, and bonus access to the Wankz network of exclusive porn sites.


$6.66 – My Milf Boss Discount (78% Off)