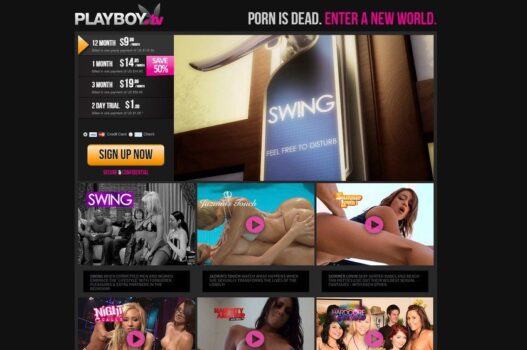 Playboy.TV from anywhere

Now you can access every series on Playboy.TV from your computer, mobile phone, and tablet for one low monthly price.

Add your review


The best way to watch every show on Playboy.TV is with a subscription at their adult site. Instead of paying the cable company a premium for access, you can purchase a cheap monthly membership which allows you full access to their exclusive series from your computer, mobile phone, and tablet which is something the cable companies simply can't offer. No matter where in the world you may be, as long as you have an internet connection, you can access the latest episodes of all of your favorite shows including Night Calls, Swing, Foursome, Badass, and Hardcore Partying. With our brand new promotional price you can subscribe for cheap.

While the standard price of a membership is $29.99 per month, our discount lowers the cost to just $9.99 if you join for a single month. That is a one-time savings of $20.00 and a 67% discount. If you purchase a 12 month subscription however you can save even more. With this extended plan you pay $99.99 upfront which is equivalent to only $8.33 per month. At this rate you are saving 72% off the regular price.
Active Playboy.TV Discounts:
Full access to the entire Playboy.TV collection of television series including Night Calls, Swing, and Badass.


$8.33 – Playboy.TV discount (72% Off)