Teens In The Woods Discount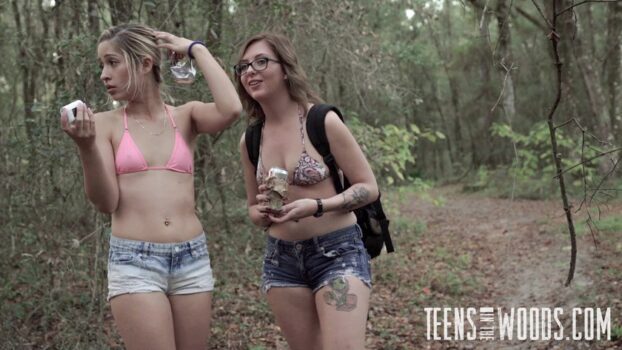 Lost in the woods

Find out what happens when sexy starlets get lost in the woods!

Add your review


Teens in The Woods is a newly released reality site which is sure to be popular with fans of BDSM and taboo porn. They offer you numerous hardcore scenarios in which sexy starlets are fucked by a pair of perverted park rangers. In one such scene, Latina babe Michelle and her friend are camping in the woods when out of nowhere a masked lunatic attacks them. They run in opposite directions and suddenly find themselves separated from one another. When Michelle stumbles upon Ranger Dick's cabin she is filled with relief. However, her relief quickly turns to panic when deviant Dick starts to look at her as if she were a juicy steak. At this point it's too late to run. The cabin door is locked and Dick intends to turn Michelle into his hot Latin sex slave for the day. Oh sure, he'll help her find her friend, but not till he's had his fun. Michelle, as it turns out, is the submissive type, which is exactly what Dick likes. After a little coaching, she seems to enjoy having master Dick boss her around. In fact, she becomes more and more turned on as the scene progresses. If you subscribe to Teens in The Woods right now you will receive instant access to Michelle's 55-minute long scene, which is titled "Hazed & Glazed", and is packed full of hardcore action. This scene, and all other Teens in The Woods updates, are available to stream and download in 1080p high definition and come with matching high resolution images. In addition to being able to access each exclusive update, your membership comes with full access to Fetish Network. This network features 49 sites, 3,476 videos, and is updated multiple times per week.

Teens in The Woods is regularly priced at $39.95 per month, but today you can reduce your monthly fee to as little as $8.33. In order to receive the best possible price, you must subscribe via Fetish Network. When you visit the sign up page, you will find numerous membership options, including a discounted monthly plan for $19.95. If you opt for this monthly subscription you will save $20.00 every 30 days. You will also find a quarterly subscription for $39.95, which reduces your average monthly cost to $13.32. A 6-month plan which reduces your average monthly fee to $11.66. And last but certainly not least, a yearly subscription for $99.95 which saves you nearly $32.00 per month and reduces your average monthly expense to just $8.33.
Active Teens In The Woods Discounts:
With a membership at Teens In The Woods you gain full access to a small but growing archive of exclusive scenes and bonus access to the Fetish Network.


$8.33 – Teens In The Woods Discount (80% Off)