Ultimate Surrender Discount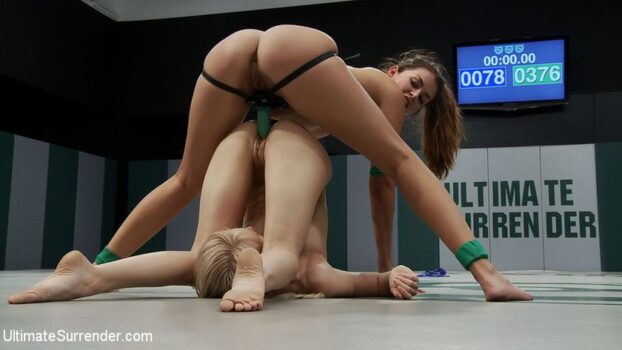 Wrestling will never be the same after you watch just a few of the thrilling girl on girl matches available only from Ultimate Surrender. This porn site takes female wrestling to new heights! Their videos showcase wild action and authentic holds, where the winner truly takes all! Instead of receiving an award or a belt, the winner is presented with a large strap-on. The loser of the match however is rewarded with a pounding she will never forget. Including this week's latest update, there are now a total of 969 videos available within the Ultimate Surrender member's area. Each of these video updates are available to stream or download with your subscription plan. As far as updates go, new scenes are added every week on a consistent basis. Aside from this massive archive of videos you can access, your membership at Ultimate Surrender is part of the Kink Unlimited network. This means that you can access every other site within the Kink network for free! A few of the most popular sites within the network include Fucking Machines, Hardcore Gangbang, Device Bondage, and The Upper Floor. In total, you gain access to 13,055+ exclusive videos, 66 adult sites, and near daily updates.

A subscription plan at Ultimate Surrender is regularly priced at $39.99 however with our various discounts you can pay drastically less. If you opt for the month to month plan, your fee is reduced by $20.00 to just $19.99. This is a one-time price break so if you plan to remain a member you will want to select an extended plan instead. One of the most popular choices is the 3-month plan for $89.97 total. With this option, you pay just $29.99 per month on average. For those looking to maximize their savings the 1-year plan is the only way to go. Simply pay $239.88 upfront and you receive an average monthly fee of $19.99. At this new price, you save a staggering 50% overall which is the largest price break available on a continual basis.
Active Ultimate Surrender Discounts:
With a membership, you gain full access to a current total of 969 Ultimate Surrender videos, consistent weekly updates, and bonus network access to Kink.


$19.99 – Ultimate Surrender Discount (50% Off)