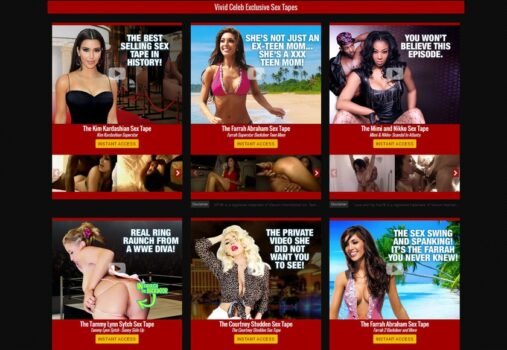 Celebrity Sex Tapes

All of the most popular celebrity sex tapes are available exclusively at Vivid Celeb!

Add your review


Everybody loves a good celebrity sex tape. Especially when the star is a piece of ass like Pamela Anderson or Kim Kardashian. Some sex tapes are legit, and others, well, they do appear to be a little staged. You can often tell because the lighting is perfect, and the chick is in full makeup. Fake or not, it doesn't really matter, because you are still getting a glimpse into the bedroom of a world famous celebrity. For some reason we just can't resist taking a peek through the keyhole. It's taboo, and voyeuristic, and in most cases we know they did not intend for this to be released into the wild. If you subscribe to Vivid Celeb today, you will receive access to 25 exclusive celebrity sex tapes for less than the cost of one thanks to our discount pricing. You can watch Pamela Anderson's classic homemade porn video which was filmed by her then husband Tommy Lee. This is the tape that started the whole celeb sex video trend and since then, it's almost normal for an up-and-coming female celeb to have one of her homemade fuck movies "leaked." Kim Kardashian's sex tape where she gives Ray J a blowjob before getting fucked from behind in bed is available as well. If you join today, you will even receive bonus access to 30,000+ hardcore scenes featuring top adult stars. You can also trade in a gift card for a membership if you happen to have one lying around.

Vivid Celeb has a standard membership fee of $39.95 per month however if you take advantage of this discount your monthly fee is reduced to just $19.97. That's a monthly price break of $19.98! They also offer a 6-month membership plan for $74.97 which is paid in a single installment. That means no more charges to your card beyond this initial payment. At this price you pay an average of just $12.50 per month. For the ultimate savings, you should consider the 12-month membership plan which reduces your average monthly price to just $9.99. This annual subscription renews every year at a rate of $119.97, which is 75% off standard price.
Active Vivid Celeb Discounts:
View every major celebrity sex tape ever released, 25 in total, for 50% off or more.


$9.99 – Vivid Celeb Discount (75% Off)