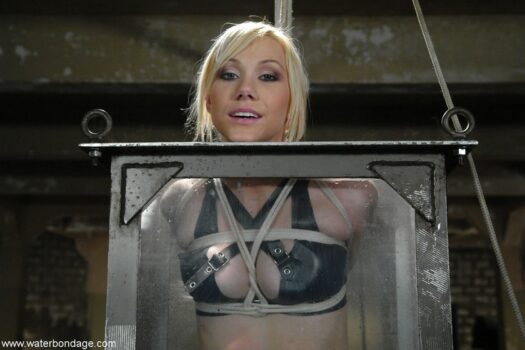 Better When Wet

Watch as willing fetish models are bound and pleasured while under water!

Add your review


Just when you thought you'd seen it all, along comes Water Bondage to renew your love for BDSM. The addition of water can transform a typical bondage scenario into something completely new and exciting. For example, they've discovered a whole new use for the dunk tank. As it turns out, it's the perfect slave training device. When her hands and feet are bound, and she is plunged into a large tank of water, she is immediately jolted with a rush of endorphins. The water is freezing, and she is helpless to escape. She doesn't breathe unless her master pulls her to the surface and allows her to. Of course, this is exactly what she desires. The more grueling the punishment the more pleasurable the experience. If you subscribe to Water Bondage today, you will gain access to 268 exclusive videos which feature all sorts of dunking and spraying action. Watch in HD as your favorite fetish babes are tormented with water till they have the most intense orgasm of their life. Your membership includes full access to the Kink Unlimited network which features 66 sites and 13,055+ movies. With our discount, you can access the entire video library for one low price and from a single member's area for total convenience.

Water Bondage is regularly priced at $39.99 per month however if you join now you'll pay just $19.99 for you first 30 days. That's a fantastic savings of $20.00 off your initial month. To save money over the long-term a multi-month membership is necessary. They offer a reduced quarterly subscription for $89.97 which averages out to $29.99 per month. A 6-month plan for $137.95 which works out to just $22.99 each month. And the best deal is the 1-year membership for $239.88. That's an average of $19.99 per month and 50% off the regular price. If you opt for this 1-year plan, you'll enjoy a massive $240.00 in cash savings.
Active Water Bondage Discounts:
A membership entitles you full access to 268 exclusive updates as well as bonus access to the entire Kink network of 66 fetish sites.

$19.99 – Water Bondage Discount (50% Off)